The Amazon Product Advertising API is a programming interface that allows access to much of the data on products that Amazon offers for sale on its websites. It allows you to access product descriptions and images, prices and customer reviews, and to display this on your own website, with links back to the Amazon site. If a customer buys a product, you can be paid a percentage of the sale value as an affiliate.
You get access to much of the data used by Amazon such as the items for sale, customer reviews, seller reviews, as well as most of the features that you see on Amazon.com, such as finding items, displaying customer reviews, and product promotions. The Amazon API allows you to display individual products, or the results of product searches. It even allows you to display a remote shopping cart, where the cart itself is hosted on the Amazon website, but customers can add and delete items while browsing on your site, then check out and pay on the Amazon site. It is possible to create a complete web store on your site using Amazon products. This is particularly useful for merchants who sell their products mainly through Amazon, who want to establish their own web presence. It is also useful for creating specialist web stores featuring Amazon products.
The Amazon product advertising API is available for the following Amazon country sites (Amazon refer to them as locales):-
Amazon Product API Countries
Country
URL
Brazil
http://www.amazon.com.br
Canada
China
France
Germany
India
Italy
Japan
Mexico
Spain
United Kingdom
United States
How to Access the Amazon API
The Amazon Product Advertising API is free of charge to access. To do so, you need two accounts: firstly you need a developer account, which you create at http://aws.amazon.com . You will obtain a set of API keys through this account, the process is described here. The AWS site is an international one, you use the same site whichever Amazon country database you are planning to use. It serves as a general gateway to the cloud computing services provided by Amazon, such as Amazon S3, Cloudfront in addition to the Product Advertising API.
Secondly, you need an Amazon affiliate account (sometimes known as an Amazon associates account). Registering for this account allows you to create tags which can then be used in links to the Amazon site, and used to track which purchases are generated from your site. There is an affiliate site for each Amazon country, note that they are completely separate sites. If you wish to be an affiliate for more than one country, you will need to create an account in each (there is more on this below).
How Does it Work?
The API is contacted through a normal http or https URL, which is crafted to tell the Amazon server what information is required. This is called a REST request. It is in fact much the same as a normal web page request, and the results can be viewed in a web browser, except that the Amazon server responds with data in XML format rather than the normal HTML. If you want to understand more about the technical details then the developer guide is available here.
The process is this:-
Your website uses the Product Advertising API to display item descriptions, images, and reviews to your customers.

Customers browse your site in order to shop and add items to their shopping cart.

When the customer is ready to purchase the items, your application redirects the customer through a specially crafted URL which includes your affiliate tags, and Amazon completes the purchase by getting purchase information, such as payment method and shipping address. Amazon then fulfills the order by shipping the items.

Because the customer was referred through your affiliate links, you receive a percentage of the sale.
Limitations
You are limited to the information supplied by the API, which does not exactly match that on the Amazon site. The API does not return the product star rating which you will see on its Amazon page. It is unclear why not, my own belief is that it makes it easier to sell products that have a low rating. If you want to show a star rating on your site, the only way is to add it manually. Also it does not directly supply the customer reviews, instead it supplies a link to a reviews page hosted on its own site, which can be displayed in an iframe on your site.
Amazon Terms of Use
If you want to access the API, it is important to read (and try to understand) Amazon's terms of use, as there are a number of things that you might consider uncontroversial, but which they expressly forbid, such as the local storage (on your site) of images. This is likely due to copyright restrictions. You are also not allow to store or edit customer reviews. You can read the licensing agreement for your country here:
Usage Limits
While access to the API is free, Amazon do protect their servers by limiting the usage over time. They have a default "fair use" limit, however it is possible that they will increase this limit for sites that generate a high volume of sales. Therefore you need to register your AWS account and your affiliate account using the same email address, so that the accounts can be linked. If you want to register on more than one country affiliate site you can do so using the same email address, because they are completely separate sites.
The problem of usage limits can be mitigated by caching data, however Amazon do not like this very much, as pricing and other product information can change. However they will (grudgingly) allow caching for short periods, but not of images or customer data such as reviews. Many sellers on Amazon employ automated software to set the prices of their products (it is why you occasionally see some very odd prices, sometimes the algorithm goes wrong), and so prices can change several times a day, making it important to keep the caching period short, preferably down to a few minutes.
Featuring Products from more than one Amazon Country
The thing is, the internet is international, so if visitors from a different country end up buying a product which they see advertised on your store on their own different country Amazon site, then it makes sense that you would like to be paid for it. It is certainly possible to achieve this, though it has to be said that creating a multinational store is not for the faint-hearted. Each Amazon country site is separate, so that products which exist in one country will not necessarily exist in another: this is particularly likely with niche products offered by third party sellers. Each Amazon product is identified by a unique number called an ASIN: these are sometimes the same for products that exist across country sites, but there is nothing that guarantees it.
If you do want to create a multinational store then you will need to sign up as an affiliate with each country that you want to feature products from. Remember that they are separate sites, so you will need an account on each. You can use the same email address to create an account on each country affiliate site, which is recommended because it allows Amazon to link your affiliate accounts to your developer account. Note that you will only need one AWS developer account to access the API, in fact it is against Amazon's terms to open more than one.
Our Amazon Shopping Cart Extension for Joomla!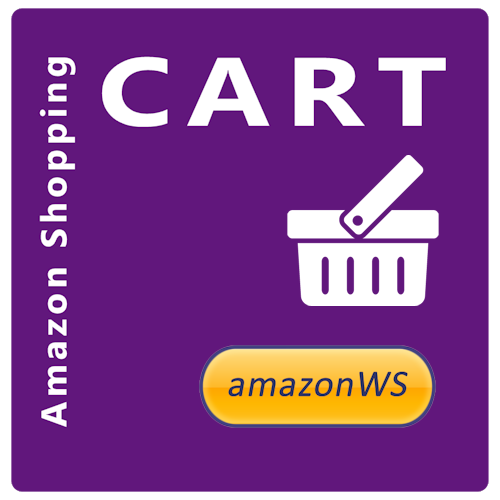 In order to access the Amazon Product Advertising API you need an application that is capable of doing so. Building your own is a major task, and does require web development experience, knowledge of XML and familiarity with a scripting language such as PHP. Our Amazon Shopping Cart extension for the Joomla CMS is designed to give you a simple yet flexible way to implement this on your site without being a developer. Customers are able to browse on your site, search for products, and add them to their shopping cart, all on your own website. They only go to the Amazon site to check out and pay.