Last Updated: 19 March 2018
Created: 04 December 2017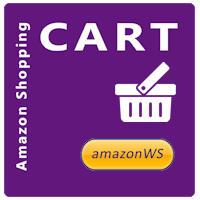 We are pleased to release a new version, 1.7.0, of our Amazon Shopping Cart extension for Joomla. This is a package of Joomla extensions based around our AmazonWS plugin, that allows you to create a complete Amazon store on your Joomla website.
This is a maintenance release that includes some important new features:-
Adds support for Easy Blog in Similar Products plugin
Adds option to limit product title length for similar items
Fixes meta keywords and description in component views
Adds new Amazon Cart Icon module
Adds storage of cart data to Joomla session
Adds new Amazon Showcase module
Makes the initial setup of the extension more user friendly
Improves the router
Adds optional delay to the Amazon REST requests, to help with throttling
Adds option to refresh page when there are no results due to a failure to contact the server
Sets the browser title to the product name when the page is an internal link
The new version includes two new modules: the Amazon Showcase module, and the Amazon Cart Icon module.
Showcase Module
The showcase module offers a simple way to showcase up to 10 selected Amazon products in a slideshow.
Cart Icon Module
The cart icon module provides a way of displaying summary cart information accessed through hovering over the icon, with a link to the main cart page.