Last Updated: 04 April 2017
Created: 04 April 2017
We have a new release, version 1.6.0 of our Amazon Shopping Cart extension for Joomla, and version 3.9 of our AmazonWS content plugin for Joomla.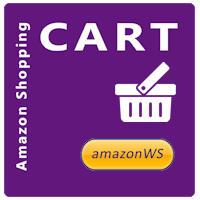 These a maintenance releases with two important new features: there are some significant improvements to the way that the caching system works; and the ability to show similar products to the ones currently being viewed as a way to increase buying opportunities for customers.
So the general intention of the new features is to prevent issues (so far as possible) caused by Amazon throttling, when Amazon consider that your site is making too many requests and refuses to supply any results. The caching improvements mean that it is possible to store results much longer, while still showing current ones when they are available. The similar products display is designed to provide an alternative way of showing products rather than just displaying them in a long list (which can result in throttling problems).
The caching improvements are available in both the Amazon Shopping Cart and the AmazonWS content plugin. The similar products display is available as part of the Amazon Shopping Cart package.
Amazon Shopping Cart is a complete package of Joomla extensions based around our AmazonWS Joomla content plugin, that allows you to create an Amazon store on your Joomla website, including a shopping cart. Customers can browse your site, and add items to their cart without leaving your site: it is only when they are ready to pay that they are redirected to the Amazon website.