Last Updated: 19 April 2017
Created: 19 April 2017
We have a new release, version 1.6.3 of our Amazon Shopping Cart extension for Joomla.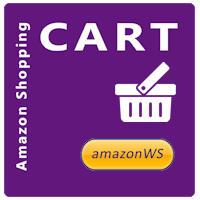 These a maintenance release which fixes some bugs that have come to light since the release of version 1.6.2, and adds a few improvements. The new version has these changes:-
More fixes to the pagination of search results
Fixes an issue with the checkout purchase URL
Improvements to the product search module
Adds an option to select the menu item for click-through pages
You are recommended to update if you can, due to the fix for the purchase URL issue. If this is not convenient, then read this article for an alternative way to fix it: https://www.spiralscripts.co.uk/News/issue-with-amazon-shopping-cart-checkout.html
We hope that the pagination issue with search results is finally fixed.
The search module is significantly improved. Firstly, by default it uses the default search index for the entire site, so that for example if your site just sells books, then it will show results just from the 'Books' search index. However the module also allows the option for the customer to choose the search index, and allows you (the administrator) to select which categories are available to them.
Amazon Shopping Cart is a complete package of Joomla extensions based around our AmazonWS Joomla content plugin, that allows you to create an Amazon store on your Joomla website, including a shopping cart. Customers can browse your site, and add items to their cart without leaving your site: it is only when they are ready to pay that they are redirected to the Amazon website.