Last Updated: 06 April 2017
Created: 06 April 2017
We have a new release, version 1.6.2 of our Amazon Shopping Cart extension for Joomla.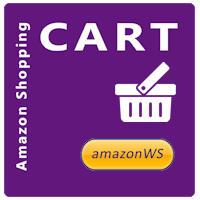 These a maintenance release which fixes some small but annoying bugs that have come to light since the release of version 1.6.0. The new versions fixes these issues:-
pagination of search results
caching the Amazon Similar products module output
Saving the download link in the update admin section
These are fairly minor issues, but the one with the updater means that at the moment existing customers cannot automatically update using the Joomla updater. You will need to update by downloading the installation package using your download link, and then installing it using the Joomla installer. There is no problem with doing this, you do not need to uninstall your current version. Once you have updated, and pasted your download link into the cart admin, you will be able to use the Joomla update manager.
Amazon Shopping Cart is a complete package of Joomla extensions based around our AmazonWS Joomla content plugin, that allows you to create an Amazon store on your Joomla website, including a shopping cart. Customers can browse your site, and add items to their cart without leaving your site: it is only when they are ready to pay that they are redirected to the Amazon website.