Spiral Scripts News
We are pleased to announce the release of a new module for Joomla. Tags Match allows you to display in a module Joomla items selected by tag. It works with the Joomla Core Tags component. It includes some useful options:-
which content types you want to display
whether to display the item content, or just the title and link
optional image display
activation of content plugins in the item text
We are pleased to announce the release of version 1.0.1 of our Tags Match module for Joomla!. Tags Match allows you to display in a module Joomla items selected by tag. It works with the Joomla Core Tags component. This introduced some new features:-
The new release is now compatible with Joomla 4 as well as Joomla 3;
There is an added option to truncate the output of item text;
We have a new release of our Featured Items Pro Module for Joomla.
This module displays a short excerpt from articles in a selected category or section, or from a specified list of articles, with link and optional thumbnail image. It works with both the Joomla core content and with K2.
The new release includes a new feature to select K2 items by tags. It also adds some improvement to the generated URLs for Joomla articles.
You can download the module here.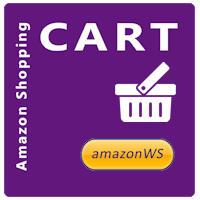 We are pleased to release a new version, 1.7.0, of our Amazon Shopping Cart extension for Joomla. This is a package of Joomla extensions based around our AmazonWS plugin, that allows you to create a complete Amazon store on your Joomla website.
This is a maintenance release that includes some important new features:-
Adds support for Easy Blog in Similar Products plugin
Adds option to limit product title length for similar items
Fixes meta keywords and description in component views
Adds new Amazon Cart Icon module
Adds storage of cart data to Joomla session
Adds new Amazon Showcase module
Makes the initial setup of the extension more user friendly
Improves the router
Adds optional delay to the Amazon REST requests, to help with throttling
Adds option to refresh page when there are no results due to a failure to contact the server
Sets the browser title to the product name when the page is an internal link
We are pleased to announce a new release, Version 3.10 of our AmazonWS content plugin for Joomla. This plugin allows you to embed product information and reviews and links from Amazon Web Services into your Joomla articles.
Version 3.10.0 is a maintenance release that includes two important new features:-
It adds a one second delay after each contact to the Amazon server, to help reduce issues with Amazon throttling. This can increase page load times, however with the use of the plugin caching, the effect is not particularly noticeable. The delay is an option which can be turned off if preferred.
It adds support for Amazon Power searches. These can be used with the "Books" search index, and are useful when you want to narrow search results by multiple criteria. For example, a Power search can create a single query for books by author, publication date, language, and format. You can read more about this here: https://www.spiralscripts.co.uk/FAQ/using-amazon-power-searches.html