Spiral Scripts News
The good news is that the latest release of K2, the popular content extension for Joomla!, is now compatible with Joomla 1.7.
Our Featured Items range of modules have now been adapted to work with K2 running on Joomla 1.7.
These modules allow you to display selected Joomla and K2 articles in a variety of formats, including tab panes, accordions, carousels and slideshows. The modules are designed to allow you the greatest possible flexibility in the way you select your Joomla articles, either selecting from one or more categories or sections, or displaying your chosen list of articles. These articles can be displayed in a variety of orderings, and you can choose the exact amount of text to display, ranging from a short extract to the entire article text. You also control whether or not to display a thumbnail, and the thumbnail size.
Version 2 of Com GooglebaseXML, our component for Joomla 1.5 and Virtuemart 1.1x is now released.
This component allows you to create an XML product feed for your Virtuemart store for upload to Google Merchant Centre. The latest release includes several new features designed to give you a more accurate and informative product feed. These include:-
Product variant display
Support for additional product attributes such as size, color etc
Support for the Google Category attribute
Additional countries, those supported are now: United States, United Kingdom, Germany, France, Japan, the Netherlands, Spain, Italy, China, Australia, Brazil and Switzerland
Support for sale_price, and sale price effective date attributes
Additional product images
Feed can use Virtuemart product type data fields
Version 2 is designed to be much more flexible about the product information that can be displayed. An entirely new feature is the use of Virtuemart product type information, which can be incorporated into the data feed to allow you to customize the data sent to Google for each product.
Version 1 of Com GooglebaseXML was one of our most popular products, we hope this new version will be even more popular with customers, as our aim is to make it a highly effective tool for submitting your products to Google product data search.
The latest release of our Amazon Web Services content plugin for Joomla 1.5, 1.6 and 1.7, and for Mighty Extensions Resources, is version 2.4.2. This content plugin allows you to embed product information and reviews and links from Amazon Web Services into your Joomla articles.
This release includes several improvements:-
It adds support for Joomla 1.7
It adds support for the latest version of the Amazon product advertising API (2011-08-01)
It adds support for the new Italian and Chinese Amazon product advertising APIs (see https://forums.aws.amazon.com/ann.jspa?annID=1115)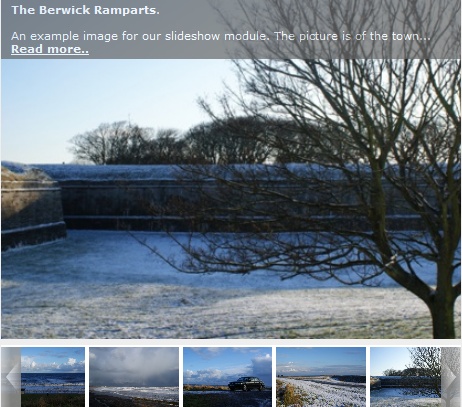 We have a new release of our slideshow module for Joomla, mod Featured Items Slideshow. This module can display images from your Joomla! articles as a slideshow, with a caption taken from the text, and a link to the articles. The module finds your article images automatically, the administrator just needs to pick the section or category, or the individual articles.
Version 2 includes a completely new HTML 5 layout, supporting a variety of image transition effects.
The latest release also includes several other improvements:
the controller display is now optional
the slideshow speed is now optional
multiple images can be displayed from each article
improved image resizing now allows you to specify the exact width and height of each image displayed.
We have a new release of our GooglebaseXML component. This Component for the Joomla 1.5 Content Management System generates a product data feed for your Virtuemart store. This feed can be uploaded to your Google Merchant centre account.
The latest version, 1.0.8, includes support for 1 new country: Australia.
Version 1.0.8 also changes the availability options to support the new values:
'in stock'
'available for order'
'out of stock'
'preorder'
Existing customers who have already bought the product can download the latest release using their existing download link.