Spiral Scripts News
We have updated our Featured Product Grid Module for Virtuemart.
This module extension for Joomla 1.5 and Virtuemart is an alternative to the Virtuemart featured products module. It can be used to show featured products, top ten products, recent products, and random products from some or all categories.
The module is particularly useful when you want to display additional images for your products, as these are shown in a scroller.
The products can be filtered by selected categories, and our new feature is that it can now filter products according to the current category when a category browse page or a product flypage is being viewed.
We are happy to announce the release of our new 'News Tab' module.
This module allows you to display links to your Joomla news articles in a series of tabs, a format popular with many news websites. The module supports articles both from the Joomla core content component and from Mighty Extensions Resources.
We are happy to announce the launch of our new Featured Items Slideshow module. This module is a great way to enliven your Joomla! news articles, and encourage visitor click-through.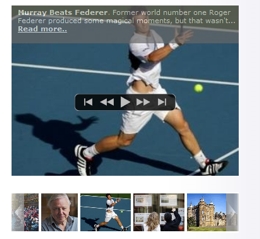 This module can display images from your Joomla! articles as a slideshow, with a caption taken from the text, and a link to the articles. It has some really handy features:-
The module is smart, it can find articles with images automatically. You can just select a category, and it will find the articles and the images in them, without you needing to add anything to the articles themselves;
articles without images will not be displayed in the slideshow;
You can choose the number of articles, plus from a variety of orderings, including title order, most recently modified or created, number of hits, or random;
Alternatively, you can select specific articles only to display in the slideshow;
We are happy to announce the release of a new extension, AS3 Manager. This extension package for Joomla! 3 allows you to manage your Amazon S3 objects and buckets from your Joomla admin. You can upload and delete objects, and create and delete buckets. You can create download files and packages (consisting of multiple files), for free or for sale. If you want to sell digital downloads you can use our download plugin for Virtuemart which is compatible with AS3 Manager.
The first release is number 2.0.0, as this extension supersedes our previous Amazon S3 component which was not on general release, but was available as an add-on to our Spiral download plugin. The new version greatly expands its functionality. For the first time you can create download packages of Amazon S3 files, and make the entire package for sale through Virtuemart, using the Spiral download plugin. You can also make files and packages available as free downloads, or as restricted downloads available to specific user groups.